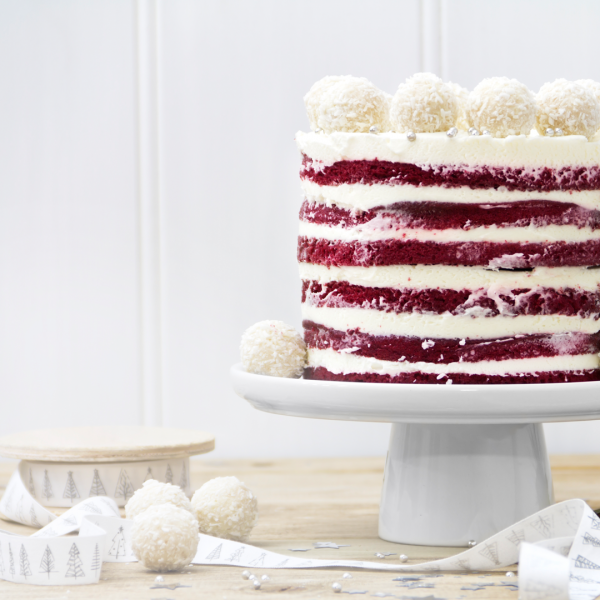 | | |
| --- | --- |
| | |
Preheat your fan forced oven to 180ºC. Grease 3 x 8" cake tins and line bases. Sift the flour, salt, bicarbonate of soda and cocoa into a large bowl and put to one side. Pour the oil into the bowl and add the granulated sugar. Beat with electric mixer on a low speed until pale. Add the eggs, beating them in one at a time, and then mix in the red food colouring and vanilla extract.

Spoon in a third of the flour mixture, and mix together. Combined the cooled coffee and buttermilk, and add half to the mixing bowl and beat in. Add half the remaining flour mixture and mix. Stir the white wine vinegar into the remaining buttermilk and pour it into the cake mixture. Beat it in well and finish by folding in the remaining flour mixture.

Evenly divide cake mixture between the tins and bake for around 40 minutes, or until skewer comes out cleanly. Leave to cool in the tins for 10 minutes, and then transfer to a wire rack to cool completely.
With an electric mixer, blend together the cream cheese and butter until smooth and pale. Reduce the speed to low and sift the icing sugar into the bowl in 3 stages, beating well in between. Increase speed to high and beat until light and fluffy.

If your cakes have domed, level them off, keep scraps to one side. Measure half way up your cake and insert toothpicks as a guide. Using a long serrated knife slowly cut through the cake using the toothpicks as a guide. Repeat for all three cakes so you have 6 layers.

Dot a teaspoon of the cream cheese icing onto your cake stand and top with one of the cakes. Dollop a couple of large spoonfuls of icing into the middle of the cake and evenly spread it to the edges, leaving a bit of a border, as it will spread when you place the next sponge on top. Repeat for each layer. Top your cake with one final layer of frosting and decorate with Christmas truffles or crumble up your cake scraps on top of your cake.