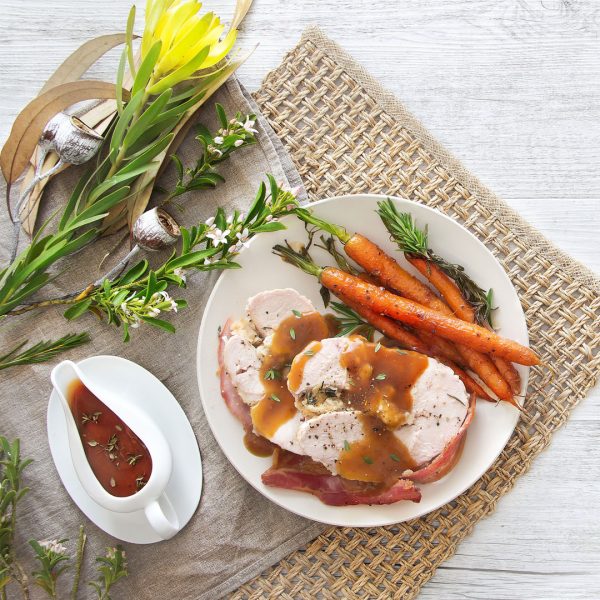 | | |
| --- | --- |
| | |
Preheat fan forced oven at 190C°

Start by preparing the stuffing. Cook bacon in a large fry pan over medium heat until it crisps. Add mushrooms, spring onions, parsley and thyme and sauté for 5 minutes. Pour wine into pan; simmer until wine evaporates, roughly 3 to 4 minutes. Remove from heat, discard thyme sprigs and stir in bread crumbs, season with salt and pepper and allow it to cool.

Place the butterflied breast on a board and add a film of plastic wrap on top. Pound the meat with the smooth side of a mallet and create an even thickness, roughly 2-3cm, be careful not to rip the turkey in the process. Remove the plastic wrap and season with salt and pepper.

Cut a square of baking paper the length of the turkey. Line up middle bacon pieces alternate, making sure they overlap and set it aside ready for wrapping turkey breast.

Scoop the filling and scatter in the centre of the butterflied turkey. Slowly roll the turkey breast, tightly tucking in the filling as you wind. Once the roulade is tightly secured, lay the turkey horizontally on the edge of the vertically lined up bacon. Use the baking paper to fold the turkey around the bacon, once it's rolled, remove the baking paper. Use butcher's twine to fasten the roulade before transferring it to the roasting tray.

Cover the roulade with aluminium foil and roast for 1 hour. Remove the foil and allow the turkey to roast for a further 30 minutes or until turkey is cooked through.

Remove from the oven and allow it to rest at room temperature for at least 15 minutes. Keep drippings and carve 2-3cm thick slices and serve with the warm gravy.