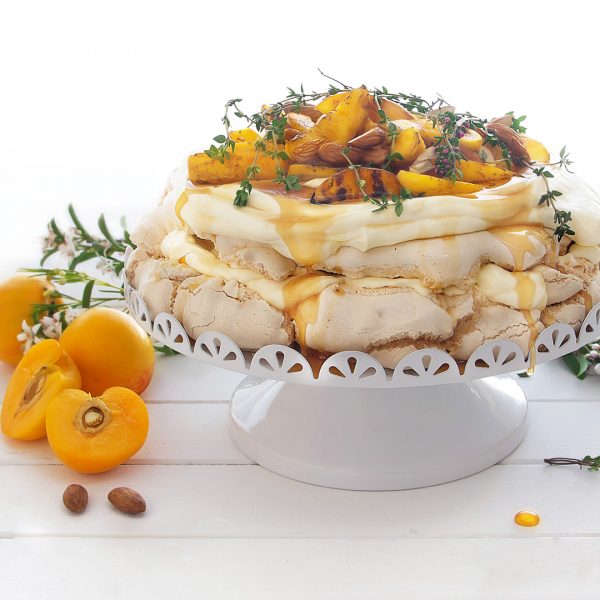 | | |
| --- | --- |
| | |
Preheat fan forced oven at 160C° and arrange a baking tray with non-stick baking paper.

Mix egg whites, sugar, cornflour, vinegar, vanilla essence and boiling water in a large bowl. Whip with electric beaters on high until stiff peaks form (You will know it's ready when you remove the mixers, and the batter develops a nice firm peak).

Transfer the mixture to the baking tray with the non-stick paper, use a spoon or spatula to create a round shape, form soft peaks at the top of the batter or smooth out if preferred. The meringue should create a rough 22cm diameter Pavlova.

Bake for 20 minutes at 160C° until lightly brown. Switch off the heat and leave in oven to cool for approx 1 hour.

To make the syrup combine sugar and water in a small saucepan over medium heat, stirring until the sugar dissolves. Bring to the boil, before removing from the heat. Add thyme and orange zest; let the syrup infuse for 1 hour, then strain into a container with a tight-fitting lid.

Place the cold thickened cream in a large bowl. Beat it on high for approximately 5-10 minutes, once the liquid starts to thicken gradually add the sugar. The whipping should look thick and glossy; once it forms hard peaks chill in the fridge until you are ready to plate the Pavlova.

Finally, warm a grill pan over high heat. Lightly smear the pan with cooking oil and add nectacots, cut side down. Grill for 1-2 minutes or until golden brown grill marks appear. Transfer the nectacots to a plate and let them cool.

To build the Pavlova start by carefully placing the meringue base on the serving stand or plate. Top with the generous amounts of chilled whipped cream and add the grilled nectacots, drizzle with the orange and thyme syrup and sprinkle with roasted almonds. Decorate with fresh thyme sprigs, serve immediately and enjoy.